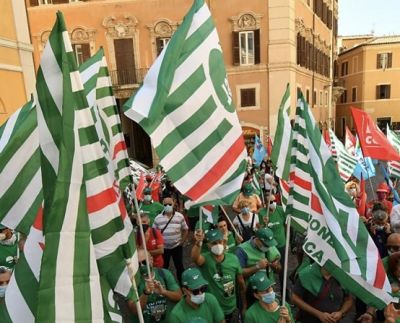 A milestone agreement between Italian unions FIOM-Cgil, FIM-Cisl and UILM and Trieste-based Fincantieri, Italy's largest shipbuilding group, sets new standards on diversity, inclusion, work-life balance and employee well-being.
The accord covers more than 8,000 employees and runs from 1 January 2023 until 31 December 2026. It contains many innovative elements for the mechanical and metal sector, say unions, including promoting gender parity. The principle of diversity and inclusion (D&I) is gaining ground in collective bargaining. Fincantieri, which operates in a traditionally male-dominated sector, has adopted the 'Women's Empowerment Principles' and is aiming for the gender parity certification launched in Italy in 2022. The group is setting up a free psychological support service for victims of gender-based violence in the workplace. Fincantieri has also drawn up an 'intercultural programme' to improve social inclusion for non-Italian personnel working in the shipyards. 
Employees will get up to eight hours leave per year to care for elderly parents and a 50% increase in time off for serious illness. A productivity bonus and the company's objectives will be linked to environmental objectives including reducing energy and water consumption and hazardous waste, increasing recycling, and cutting greenhouse gas emissions.
"The renewal of the supplementary contract is excellent news and represents a strong message of confidence for workers and for the country," said Rocco Palombella, UILM General Secretary. "Despite the effects of the pandemic and high energy costs, which have put Fincantieri and the entire shipbuilding sector to the test, we have avoided the need to lay off in all the plants. We have obtained an increase in wages, an increase in supplementary welfare and training, more certainties about the future."