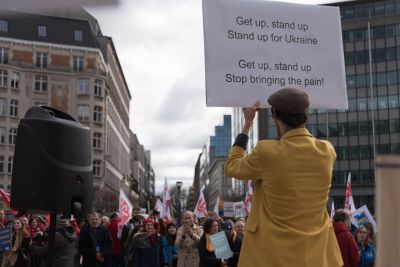 Working people always suffer in conflicts and the pursuit of peace is a fundamental trade union value.
On 24 February 2022 Russian military forces invaded Ukraine, bringing destruction to peaceful cities and workplaces. It has been a year of shock and pain, devastating news and images, but also a year of bravery and consolidation of Ukrainian people and their unions and a year of solidarity, unity, and support.
The ETUC was proud to welcome amongst its members the Ukrainian workers and their trade unions. The European trade union movement has provided political and humanitarian support to sisters and brothers in and from Ukraine. Solidarity and mobilisation are key to resisting aggression, saving lives and helping all those in need. They will be the key to rebuilding Ukraine as democratic, sovereign, and fair country that has chosen the European Union and its rule of law, respect for rights, equality and genuine social dialogue.
Today we stand with our brothers and sisters,  "A day of trade union solidarity with Ukraine and Ukrainian trade unions", to reflect the devastating consequences of the Russian aggression on workers' lives, as well on the economic, social, and energy spheres and the ecological situation in Ukraine, to commemorate the victims, but also to focus on the immediate challenges Ukrainian unions face and to build further solidarity action in support of Ukrainian workers and refugees in other countries, with testimonies from Ukraine and around the world.