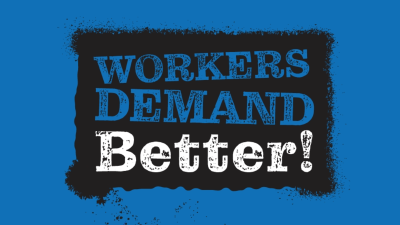 Solidarity letter sent by the ETUC to trade unions in Northern Ireland
I am writing to express the ETUC's solidarity with the workers taking a courageous stand in Northern Ireland. The wave of coordinated collective action by ICTU unions, initiated on 21 September 2023 and culminating in a strike rally in front of Belfast City Hall on 22 September, underscores the collective determination of working people to secure fair wages, improved working conditions, and a brighter future for themselves and their communities.
We echo their call on the Northern Ireland Secretary of State to restore pay parity and bring workers' pay in line with the rest of the United Kingdom. Regional inequality is the most acute of any Western European country. The government cannot let Northern Ireland fall further behind. It must act to ensure an upward conversion of workers' pay and conditions and of public services for all.
The struggles of NIPSA, NUJ, Unite, Unison, GMB, UCU, RCM, SoR and CSP members, coordinated within ICTU's Northern Ireland Committee resonate with workers across Europe. Bargaining collectively for pay rises, and when necessary taking strike action, is the way to end the cost-of-living crisis working communities are experiencing. As you take collective action, know that we are fighting tooth and nail to protect your right to strike and repeal the UK government's new anti-strike legislation.
United we are strong.
Sincerely,
Esther Lynch
General Secretary of the European Trade Union Confederation
Note: further information on the rally is available here NIC-ICTU announces strike rally in front of Belfast City Hall from 12:30-13:30 on Friday 22 September 2023