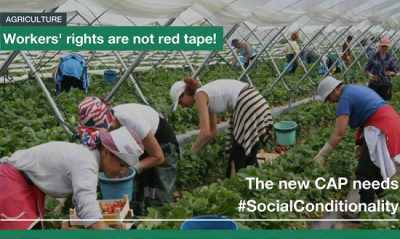 Trade unions in Spain, together with the Spanish Ministry of Agriculture, Fisheries and Food, have agreed to launch a permanent dialogue on issues relating to the agricultural sector and policies affecting workers.
CCOO de Industria and UGT-FICA insist that agricultural employers must respect the minimum wage and have called on the Ministry to intervene to guarantee collective bargaining rights for all workers.
With the new EU Common Agricultural Policy coming into force in 2023, the unions are calling for social conditionality - meaning that CAP beneficiaries will have to respect elements of European social and labour law to receive CAP funds - to be included from day one. To this end, they want to meet other government departments responsible for compliance with labour, social and social security regulations, to establish the checks and mechanisms for effective application of social conditionality.
"The new CAP in our country should be an opportunity for the development of a new framework of labour relations in the agricultural sector where progress is made in the negotiation of the 1st State Farm Agreement, compliance with the minimum salary and guaranteed collective bargaining coverage for all farm workers," said UGT-FICA and CCOO de Industria.