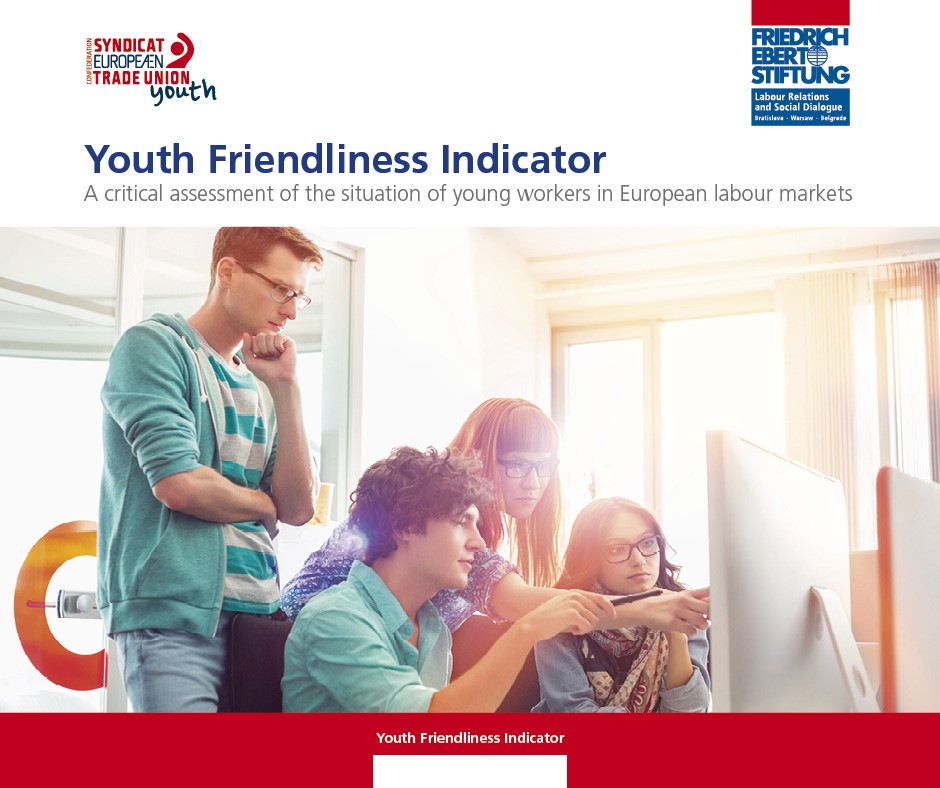 Youth Friendliness Indicator: A critical assessment of the situation of young workers in European labour markets
Brussels, June 4th 2018
To: Members of the ETUC - Youth Committee
Dear colleagues,
I hope that this email finds you well.
We are very happy to share with you the report "Youth Friendliness Indicator - A critical assessment of the situation of young workers in European labour markets", developed by the German consultancy company FIA with the support of the Friedrich Ebert Stiftung. You may have followed the social media campaign that we put forward ahead of its launching, which took part officially last Friday June 1st during the European Youth Event in Strasbourg. 
The report analyses how youth-friendly the different European labour markets are. It is based on a survey to which trade unionists, officers from the public employment services, academic researchers and employers' representatives all contributed. It comprises eight chapters, each developing findings around a specific theme appertaining to youth employment and transitions.
You contributed to this survey through your answering to the extensive survey and by suggesting names of your national government, members of the employers' organisations of your country and the Academia. The bureau of the ETUC - Youth Committee (both the incumbent one and the two previous ones) created the idea and follow-up its development.
This report has also been sent to key European policy makers and we warmly encourage you to read the document and to use it at national level to demand quality jobs creation and fight against precariousness. You may also consider to translate the document into your language. 
Fraternal greetings,
Viktória Nagy
President of the ETUC - Youth Committee
Thiébaut Weber
ETUC Confederal Secretary