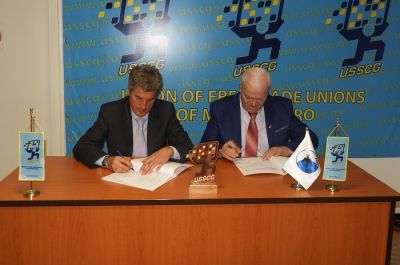 The Union of Free Trade Unions of Montenegro (UFTUM) and the Union of Independent Trade Unions of Albania (BSPSH) have concluded a cooperation agreement for the next four years, pledging mutual respect and an exchange of knowledge and experience.
Srdja Kekovic, the Secretary General of UFTUM – an existing ETUC affiliate – and Gezim Kalaja, President of BSPSH, which has requested affiliation, signed the deal in the Montenegrin capital, Podgorica.
By coordinating activities, the unions aim to improve the economic, social and legal living and working conditions and interests of their members. They will share information in important areas such as union organisation, negotiating, occupational health and safety and free movement of workers, as well as good practice on education and training of trade union representatives, cooperation on projects, and solidarity and support.