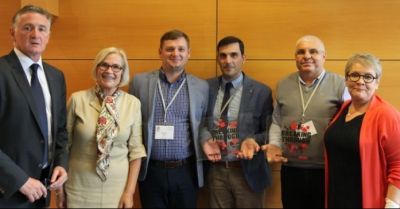 Two trade unions in Romania have received awards for their outstanding union organisation efforts.
Romanian IT union SITT (Sindicatul IT Timisoara) received a UNI Global Union 2017 Breaking Through award for recruiting over 1,100 new members in less than six months as part of its campaign to improve conditions for hi-tech workers. It is now negotiating a collective bargaining agreement.
"We achieved this because we have a strategic and tactical organisation, and we thank the unions that have supported and trusted us," said Florentin Iancu, President of SITT. "And we also thank UNI, who guided us and helped us achieve success."
SITT's recruiting tactic is to use leaders in the workplace who relate to other workers' everyday problems. It aims eventually to obtain sectoral bargaining rights for Romania's entire IT sector.
A second 2017 Breaking Through award went to the Romanian Trade Union Federation of Commerce, which recruited 4,000 new members at retailer Carrefour within nine months, boosting its membership to over 70%.
"We went from 61% to 72% density in Carrefour Romania," said union leader Vasile Leescu. "It increased our strength in industrial relations. United we are a force!"