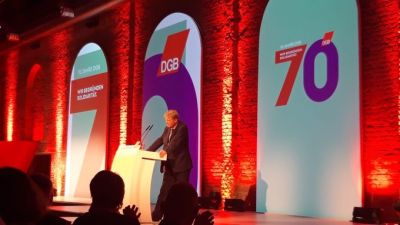 In October, the German Trade Union Confederation (Deutscher Gewerkschaftsbund – DGB) celebrated its 70th anniversary, together with employers' organisations and political leaders.
In her speech, Chancellor Angela Merkel emphasised the importance of trade unions and of widespread collective bargaining for social cohesion in Germany. Participants praised the DGB for its important role in representing workers' interest in the German social market economy.
DGB President Reiner Hoffmann said the occasion was also an opportunity for reflection on the past. The Confederation was set up following the Second World War and the defeat of fascism. "The knowledge of one's own history helps to determine the present and to define future perspectives for action," he argued. "Especially in times of right-wing populism and nationalism that used to be considered impossible, we cannot afford to be oblivious of history in Europe." Attracting more union members requires active participation and commitment to common goals, including solidarity, he concluded.