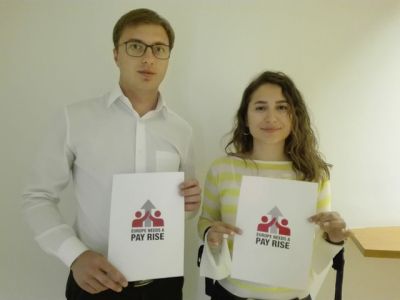 Young people and the youth pay gap
Young people earn below the average wage in all EU countries. But in some the gap is much wider than in others, and is growing alarmingly.  In 2014, the under-30s earned on average 74% of the overall standard wage.  But since 2006, that proportion has fallen by two percentage points or more in 16 EU countries: Belgium, the Czech Republic, Estonia, Spain, France, Cyprus, Latvia, Lithuania, Luxembourg, the Netherlands, Austria, Portugal, Slovenia, Slovakia, Finland and Sweden. 
In countries like the Netherlands, Belgium, Ireland, Greece and the UK, lower minimum wages apply for young people. Workers in Germany are not eligible for the minimum wage until they are 18. 
To tackle the growing problem of in-work poverty among the young, the ETUC calls for a pay rise for young people. Our demands are:
All traineeships and apprenticeships should be adequately paid.
Equal pay for equal work: young people should be paid the same as older people if they do the same work.
An end to lower minimum wages for young people covered by an employment contract. 
Background on the youth pay gap
Younger people were earning below the average wage rate in all EU countries in 2014: around 74% of the average. Men generally earn more than women, and yet the youth pay gap is greater. Young men's wages are 68.6% of the male average and young women's 81.4% of the female average.
What is more, the youth pay gap is getting bigger in most countries. Average monthly earnings of workers under 30 fell as a percentage of the average wage of all workers in 22 EU Member States between 2006 and 2014.[1] The table below gives country-by-country details.   
Average monthly earnings of under-30s as a percentage of all in employment, 2006 and 2014
 

2006

2014

EU27

73.3

74.0

Belgium

78.7

75.3

Bulgaria

84.3

93.0

Czech Republic

88.2

81.6

Denmark

69.8

68.3

Germany

65.5

66.9

Estonia

101.1

92.1

Ireland

76.0

75.7

Greece

68.4

 

Spain

78.8

75.9

France

75.2

72.5

Italy

76.3

74.9

Cyprus

69.3

66.0

Latvia

100.2

94.2

Lithuania

97.0

88.7

Luxembourg

73.5

69.1

Hungary

86.2

85.3

Malta

86.3

85.5

Netherlands

67.5

64.5

Austria

73.0

71.0

Poland

79.3

78.2

Portugal

71.6

67.0

Romania

80.5

83.9

Slovenia

79.6

76.0

Slovakia

91.1

84.0

Finland

83.5

77.9

Sweden

84.8

80.0

United Kingdom

72.9
Eurostat, earn_ses_monthly
Link to video on the Youth Pay Gap - "Our jobs shouldn't push our financial limits... #OurPayRise" : https://youtu.be/Bw67BPm2LsI
---
[1] Figures unavailable for Croatia, Greece and the UK