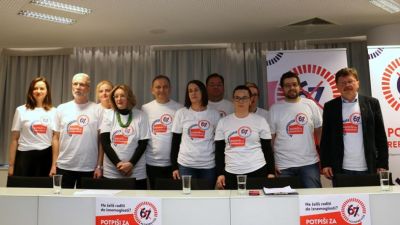 Trade unions in Croatia have collected more than 600,000 signatures on a petition supporting their demand for a referendum on the age of retirement.
The unions – including ETUC affiliates SSSH and NHS – are campaigning to keep the retirement age at 65, and reverse amendments to the Pension Insurance Act that would raise it to 67. The government is obliged to hold a referendum if at least 10% of the electorate demands it, and within two weeks of the start of the campaign the unions had passed the necessary threshold of 373,568 signatures. It is now up to the government to respond.
"Initiative 67 has been very successful!" declared Mirela Bojic, the campaign's national coordinator. "Young, old and middle-aged people realise how important this is for all of us. We want this to be an example to encourage Croatian citizens to make their voice heard. Citizens, we succeeded! Together, we can change something!" Bojic thanked all the volunteers and activists who collected signatures, enabling Croatian citizens to demand a referendum and to choose what is best for them.