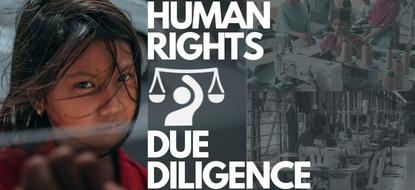 The clock is ticking! The EU draft law on Human Rights Due Diligence and responsible business conduct is overdue...
The patience of the European trade union movement has reached its limits. Although promised for end of June, we still do not have any confirmation on when and what exactly the Commission intends to launch its long awaited legislative initiative on mandatory Human Rights Due Diligence and Sustainable Corporate Governance.
Sustainable Corporate Governance is scheduled in the Commission College agenda on 27 October 2021. However, despite several attempts with both the Cabinet of Commissioners Reynders and Breton, the ETUC was unable to obtain any confirmation of that date, let alone on the content and the eventual instrument that would be presented. In addition, Sustainable Corporate Governance is presented by Vice President Jourova and not by Commissioner Reynders, nor by Commissioner Breton who has been allocated in June a co-leading role on the file.
This is unacceptable. It is now high time for the Commission to act. We cannot wait any longer. Human Rights, trade union rights, workers and environmental rights matter!
The European Commission should deliver the promised EU Human Rights Due Diligence law.
Workers and trade unions rights are Human Rights that business should comply with.
EU Human Rights Due Diligence should provide for effective measures to stop anti trade union practices and to stop violations of workers and trade unions rights.
EU Human Rights Due Diligence is the only way to hold business accountable for the impacts on people and the planet.
To recall, the ETUC key demands on mandatory Human Rights due diligence and responsible business conduct as adopted at the Executive Committee Meeting of 17-18 December 2019, include the following:
A European directive on mandatory human rights due diligence and responsible business conduct.
To  establish mandatory and effective due diligence mechanisms covering companies' activities and their business relationships, including their supply and subcontracting chains.
As an important step forward to ensure the respect and enforcement of Human Rights. Human Rights should include trade unions' and workers' rights as main components.
To empower workers to fight against of Human Rights' violations. It should ensure the full involvement of trade unions and workers' representatives in the whole due diligence process. 
For effective remedies and access to justice for victims, including trade unions.
To hold companies accountable for the impacts of their operations : liability must be introduced for cases where companies fail to respect their due diligence obligations, without prejudice to joint and several liability frameworks.
USEFUL LINKS: