Reacting to the State of the Union Speech, ETUC General Secretary Luca Visentini said:
"The real state of the union is that working people across Europe are worried sick about how they are going to afford to heat their homes this winter with falling wages while CEOs and shareholders are enjoying rising profits and dividends.
"The President reflected that reality in her speech today and said what everyone is thinking: it's wrong to exploit the war in Ukraine to make record profits on the back of struggling workers. Stopping this immoral speculation is crucial both to ending the cost-living-crisis and maintaining popular support for the strongest possible sanctions on Russia.
"It's to be appreciated that the President is committed to energy prices caps, to a temporary tax on energy companies, to decoupling gas and electricity prices, and to a reform of the energy markets.  However, it was extraordinary that there wasn't a single mention of wages in the midst of a cost-of-living crisis. Or any mention of fair corporate taxation in the future which is vital to properly fund our public services. For the second year running, the President has delivered a speech very light on social rights. There was no mention of women's rights despite the sacrifices made by mainly low-paid women workers during the pandemic.
"The President did celebrate the success of SURE during the pandemic – but regrettably didn't commit to renewing this scheme to continue saving jobs, but also to support anti-poverty measures and climate just transition. This would do more than anything to protect jobs and businesses during this crisis and is a far better solution than asking people to work unsocial hours or cutting 'red tape'.
"The President was right to commit to a reform of Europe's fiscal rules this year, this is essential to allow all Member States room for public investment, to reinforce public services and social protection systems, and to build a more sustainable and inclusive growth in the framework of Next Generation EU. It's time to reset these rules to ensure Europe's economy works in the interests of the majority of people, not only during crises but permanently.
"The gaps in this speech highlight the importance of the EU and national governments working with trade unions to design and deliver the measures urgently needed to end this cost of living crisis."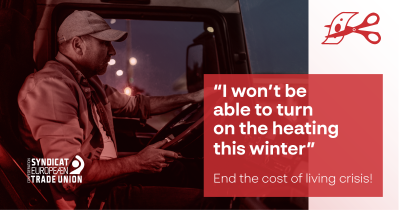 14.09.2022