Trade unions see low-carbon industry as an opportunity for a sustainable prosperity, and want industrial regions in the EU to draw up long-term strategies for reducing emissions, with close involvement of trade unions and employers.
That's the conclusion of a 2 year EU-funded project conducted with trade unions and other regional organisations in seven industrial regions across the EU.
Launched today at the final conference of this unique project, a European Trade Union Confederation (ETUC) report "Industrial regions and climate policies: towards a just transition" concludes
Europe needs planning for a socially just transition to low-carbon economy in industrial regions to drastically reduce emissions and keep manufacturing activities and related employment;
Trade unions and employers need to be consulted and participate in managing decarbonisation of industry;
The EU must accelerate the deployment of breakthrough low-carbon technologies;
Investment in skills is vital for a socially just transition to a low-carbon economy;
Social impacts of decarbonisation must be tackled
"Most trade unions see the transition to low-carbon industry as an opportunity to create industrial growth and jobs" said Montserrat Mir, ETUC Confederal Secretary, "but many workers understandably fear widespread job losses."
"Public support for climate policies cannot be taken for granted. The EU and national Governments must show they are ready to deal with the negative impacts of decarbonisation, and put in place policies to create greener industries and jobs."
"Trade unions want to be fully involved in drawing up regional plans for a socially fair transition to low- and no-emissions industry." 
NOTES
The report "Industrial regions and climate policies: towards a just transition" is available at https://www.etuc.org/publications/etuc-project-industrial-regions-and-climate-policies-towards-just-transition#.V_JUNeCLTcs and outlines low-carbon policies and the involvement and views of trade unionists in seven regions across the EU.
The seven regions involved were Humberside and Yorkshire (UK), North Rhine Westphalia (Germany), Asturias (Spain), Antwerp (Belgium), Norrbotten (Sweden), Stara Zagora (Bulgaria) and Silesia (Poland).
Speakers at the conference today include ETUC General Secretary Luca Visentini, Vice-President of the Commission Maros Šefčovič, policy experts from civil society organisations as well as from European social partners, and trade unionists coming from all around Europe to share their experience on how to deal with climate policies in industrial regions.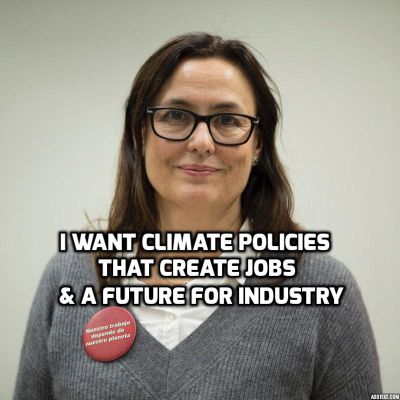 05.10.2016