The European Parliament has today voted to make EU businesses accountable for their conduct – but stronger measures will be needed to prevent unions and workers' rights violations.
The vote of the Parliament's report on the proposal for a Corporate Sustainability Due Diligence Directive represents an important step forward in putting people and planet before the profits at all costs, and making businesses accountable.
However, pressure from right-wing MEPs has weakened the effectiveness of the proposal, by removing the duty of company directors and adding the so-called  'single market harmonisation' rule, limiting member states to do more to protect workers' rights or the environment.
The report will be the negotiating mandate of the Parliament when MEPs enter trialogue negotiations on the final text with the European Commission and European Council from next week. 
The ETUC welcomes the vote on the European Parliament mandate and calls for the negotiators to ensure:
Proper involvement of trade unions and workers' representatives throughout the whole due diligence process in the companies and their whole value chain;
 
Effective access to justice for victims and trade unions;
 
Dissuasive sanctions and remedies for companies which violate human rights, workers' rights or their obligations to protect the environment, and strong liability rules.
ETUC Deputy General Secretary Isabelle Schömann said:
"Today's vote sends an important message: mandatory human rights due diligence matters more than ever. The EU must deliver for workers, people and for the planet. European companies can no longer turn a blind eye to disastrous working conditions in their supply chains, in Europe or elsewhere. Business models built on the exploitation of workers has to stop. Labour is not a commodity.
"The upcoming trialogue negotiations should ensure that businesses respect trade union and workers' rights and make businesses accountable for the impacts of their operations on people and the planet. The European trade union movement urges MEPs, ministers and commissioners to live up to their responsibility: the European Union has the exceptional and unique opportunity to pave the way for business models that care workers, people and the planet."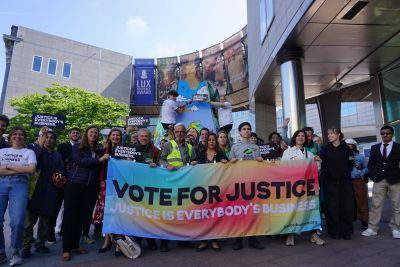 01.06.2023