Trade unions are calling on MEPs – voting on June 6 - to help working people get through the energy crisis by backing changes to the Emissions Trading System. 
The European Commission had proposed to extend the ETS to road transport and residential buildings from 2025. That would have disproportionately hit millions of low-income families who already struggling to pay their bills and do not have the means to invest in low carbon alternatives.
The ETUC previously warned the move would risk creating Gillets Jaunes-style backlash against essential climate action. But MEPs have proposed amendments that would mean:
- The ETS will only be extended to commercial transport and buildings in 2025
- The Commission would have to introduce a new legislative initiative to extend the ETS to households and the soonest it could be introduced is 2029
- The carbon price for households would also be capped at €50 per tonne of CO2
- The extension of the ETS would be dependent on a Social Climate Fund to compensate poorer households being operation for at least three years
The proposals will be voted on by the European Parliament's plenary on June 6.
Speaking ahead of the vote, ETUC Confederal Secretary Ludovic Voet said:
"Workers facing an increasingly frequent and extreme weather events know better than anyone the need to rapidly reduce greenhouse gas emissions, so trade unions fully support ambitious climate action. 
"But the move to a green economy and society needs to be achieved through a just transition that ensures no worker or family is left behind, avoiding a repeat of the rushed deindustrialisation which left a legacy of poverty still visible today.
"It would be totally wrong to vote to raise energy bills in the middle of a cost of living crisis and also undermine popular support for climate action. Only the richest households would have the means to switch quickly to alternative energy sources, leaving the poorest to pay the bill.
"That's why MEPs have a responsibility to back common-sense changes to the ETS that would save families hundreds of Euro over the next decade and ensure the right people pay the bill to clean up the planet."
The ETUC believes that the proposal to apply ETS to households should be abandoned.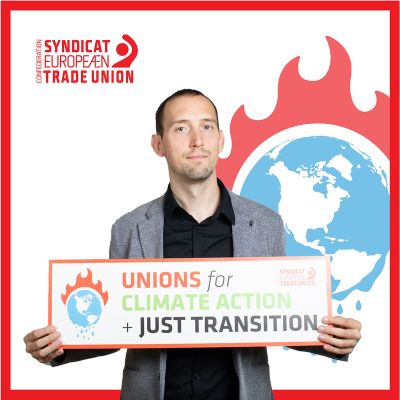 03.06.2022