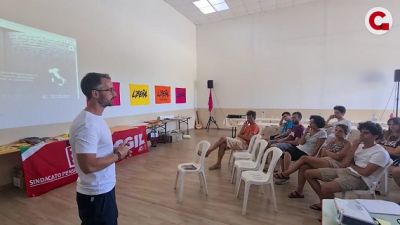 Italian trade unionists have linked up with Libera, the organisation established in 1995 to bring together all sectors of society to combat the Italian mafias.
In the Umbrian village of Pietralunga, one hundred hectares of land have been confiscated from the De Stefano family in Reggio, members of Calabria's powerful 'Ndrangheta organisation. Libera supports the use of confiscated land for initiatives such as training camps or agricultural cooperatives to encourage local development and social cohesion. SPI-CGIL, which organises pensioners and retired union members, has been collaborating with Libera for some time and this summer took part in an intergenerational camp: E! State Liberi!
Dozens of young people from all over Italy came to the event, sharing experiences with older people and trekking through the mountains in the footsteps of the Second World War Italian partisans.
The Pietralunga site is the first confiscated property in Umbria. "That the mafias have now arrived in every corner of Italy is not news," commented the organisers. "Yet there are places where to find the concrete signs of this global phenomenon still arouses astonishment."