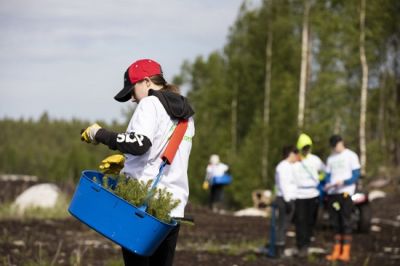 This summer, young people planted thousands of saplings in the forest named after Finnish trade union confederation Akava, in North Ostrobothnia. The 4H organisation's Taimiteko project is restoring forests in areas where peat has been taken for energy production, and at the same time supporting summer employment for young people.
Several Finnish unions have been active in the area over the last three years. In 2020, nearly 9,000 seedlings were planted in the old peat production area in Silosaari. A year later, young people planted 8,000 saplings around Utajärvi. Together with the 8,472 young trees planted in ​2022, this means 25,472 conifer saplings will grow in the Akava forest in the next few years.
"It is great that an increasingly larger part of the surface area of ​​North Ostrobothnia is being turned into a carbon sink that removes greenhouse emissions from the atmosphere, and we need the support of our partners for this in the future as well," said Raili Kokko, Executive Director of the Utajärvi 4H association.
"Even small actions to curb climate change are important," added Jenni Arnkil, of the Professional Association of Education OAJ, which inspired the cooperation between Akava and 4H. "At the same time, we are involved in supporting the employment of young people, which means that Taimiteko combines several things that are important to us. Building a sustainable future requires all of us to take actions to reduce the climate burden and promote the well-being of the environment."
 Photo: Tiina Rinne