Trade Union Platfor(u)m
Active language
English, French, Spanish, Italian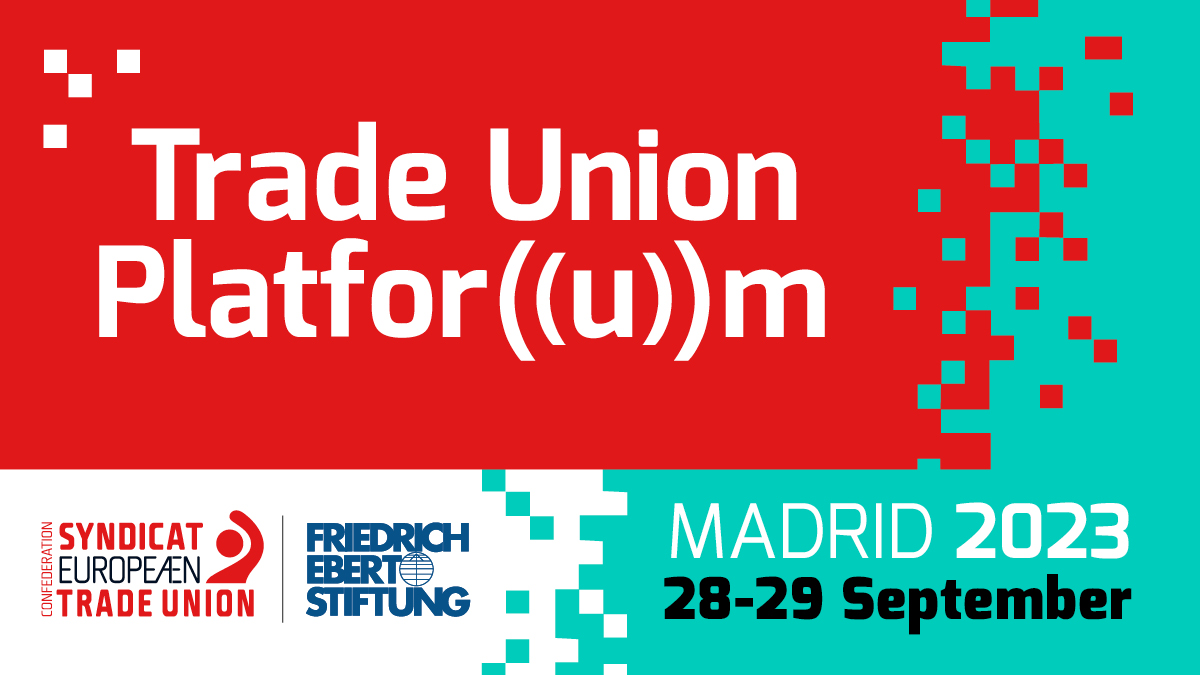 Brussels, 27 June 2023
To: Working Group on Platform Work
For information: Member Organisations
Dear Colleagues,
With this email, we would like to remind you to register for the highly anticipated event – Trade Union Platfor(u)m. 
Below you can find all information about the event including the deadline for registration (30 June) which will be strictly observed for the distribution of the reimbursed places.
Additionally, as a follow-up to our meeting last Friday, please find attached the internal document that compares the three institutional positions on this Directive on Platform Work, before the start of the trialogues on 11th July.
Together with my team, I remain available for any additional information,
Kind regards,
Ludovic Voet
ETUC Confederal Secretary
---
Brussels, 19 June 2023
To: Working Group on Platform Work
For information: Member Organisations
Dear Colleagues,
With this email we would like to invite you to a highly anticipated event – the Trade Union Platfor(u)m that will be organised in cooperation with FES Competence Centre on Future of Work and kindly hosted by UGT and CCOO Spain on 28-29 September in Madrid. The event will focus on trade union experience and capacity to attract, organise and represent workers in digital labour platforms in all current and future sectors of their activity.
Programme
Arrivals are foreseen on 28 September in the early afternoon. Departures are foreseen after the end of the programme, on 29 September at 17:00.
Thursday 28 September
17:00 – 19:30 Platfor(u)m - Public session opened by a representative of the Spanish presidency.
Welcome, keynote address and setting the scene
Legislative overview and EU-level developments
Friday 29 September  
10:00 - 17:00 Platfor(u)m – Trade union sessions
Panel with EU policymakers
Two sessions with parallel workshops organised by the member organisations (best practices and challenges; new sectors; organising tools; The impact of platform work on cities; platforms & vulnerable groups of workers, fair platform models.. etc.)
Debriefing and conclusions
ETUC Members (you) are warmly invited to propose a topic for workshops that you will organise and conduct, with ETUC assistance. The language interpretation will be available for the two days in EN, FR, ES, IT. If needed, it can also be requested for the workshops. ETUC is available to assist you on this and with other technical requests.  To submit your interest to organise a workshop please do so via the registration form.
Logistics and reimbursement
Please, read the attached travel and accommodation form carefully before making your travel arrangements. The event is organised in the framework of the ETUC project Platform Reps and in partnership with FES Competence Centre. We will be able to provide accommodation and travel reimbursement to selected participants. ETUC will book the hotel for selected participants however, participants will be responsible for their own travel bookings.  We encourage organisations that can send participants without the need for reimbursement to do so in solidarity with delegations who cannot afford to cover travel and accommodation costs.
Registrations
Interested participants must register via this form before 30th June 2023 and indicate whether they need reimbursement. In the first round of registrations, ETUC will accept 2 people claiming reimbursement per organisation. Selected participants entitled to reimbursement will receive a confirmation by ETUC in the first week of July. We invite you to register more participants as additional spots will be distributed in a second round according to availability. Participants who will not claim reimbursement must also register at the link.  
It has become obvious that trade union engagement on platform work goes well beyond the regulatory framework and we are happy to organise this second edition of the Trade Union forum on the topic. We hope to see many of you in Madrid and we are looking forward to receiving the input for the workshops to create a fully member-led and participative event.
For any further questions please do not hesitate to contact my colleagues working on the event: Lucie ([email protected]) and Cecilia ([email protected])
Kind regards,
Ludovic Voet
ETUC Confederal Secretary